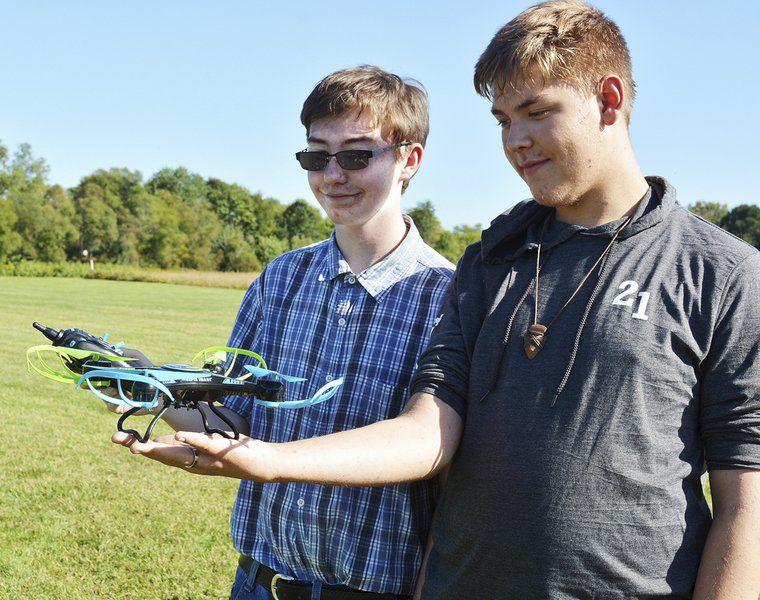 GEORGETOWN – A group of freshman and sophomore boys were able to capture a bird's eye view of themselves and their school with a drone Thursday afternoon at Georgetown-Ridge Farm High School.
"Flying the drones is pretty cool, and we get to learn more about them," sophomore Cole Meehan said.
"I'm getting a drone now just like it," freshman Jordan Hogan said.
Both boys are among the 30 Georgetown-Ridge Farm High School students who participate in Project Success' after school program.
This week, the group learned about and had the opportunity to fly three different types of drones as part of Project Success' month-long focus on aircraft.
Freshman Robert Toney said he learned that the military and police rely on drones.
Georgetown-Ridge Farm math teacher Taylor Balgeman, who used to be the Project Success site coordinator at the high school, helped out with the lesson on drones.
"We've been working with three different drones all week," he said.
Balgeman had each student try their hand with a flight simulator test projected onto his smartboard before allowing them to fly the drones.
"I didn't pass," Cole lamented about the flight simulator test. "I made the drone go all the way up."
"Drones aren't easy to fly, but some of them did really good after three days of practice," Balgeman said.
Two of the three drones were purchased, but one of the drones belonged to Balgeman. The boys further distinguished between the drones.
"This one doesn't have a camera," Cole said.
"But this one does tricks," Robert added.
Robert said he previously had flown a drone belonging to his cousin, but it didn't end up being the best experience.
"The one I had I got stuck in a tree by accident," he said.
On Thursday, though, Robert controlled the drone like an expert pilot.
A second drone seemed to have trouble flying despite Balgeman giving it some TLC and recalibrating it.
Project Success site coordinator Michelle Brooks said she had a good idea what was wrong with the drone.
"They chased me around the field with it and it smacked into a tree," she joked.
Balgeman's official diagnosis was that the drone had overheated.
But all was not lost.
"Technically, all of the drones have cameras, but the big one has a high-definition camera," Balgeman said. "It records video, and they (students) have a cool video they made.
"It also has a GPS feature so if you're flying it, you can program it to come right back to you," he said.
Brooks said that although credit recovery, tutoring and homework help are some of Project Success' "biggest things," the drones activity is one of many educational and fun activities the youngsters will experience during the school year.
Many activities are community based, such as helping clean up around town, around the waterways and in senior citizens' yards, she said.
The teens also have sent care packages to local residents in the military, Brooks said.
"We have a lot of educational field trips planned, which we do with the Westville Project Success kids," she said.
Next month's field trip is to a pumpkin patch in Arthur, but one of the most popular trips is going to the movies and then out to dinner, she said.
Brooks said going to the movies and dinner is a treat for some of the youngsters who wouldn't otherwise get the opportunity to do that.
"It's an amazing opportunity for them and it helps them to achieve academically," she said. "They gain self-confidence, and they really bond with the other kids."
Source: http://www.commercial-news.com/news/local_news/drones-excite-georgetown-teens/article_cf5985dd-211d-50de-b4b5-c6a6a98fbea4.html