Transforming UAVs to the Nanoscale
           Over the past several years, the increased application of unmanned air vehicles (UAVs) in a wide variety of industries has inspired both public and private research laboratories to not only continually improve this technology, but to also support the miniaturization of these devices. The development of both micro- and nano-UAVs is directly related to the ability of researchers to miniaturize the major components of these devices, some of which include micro-processors, sensors, batteries and all necessary wireless communication units that allow UAVs to function properly in any given settings.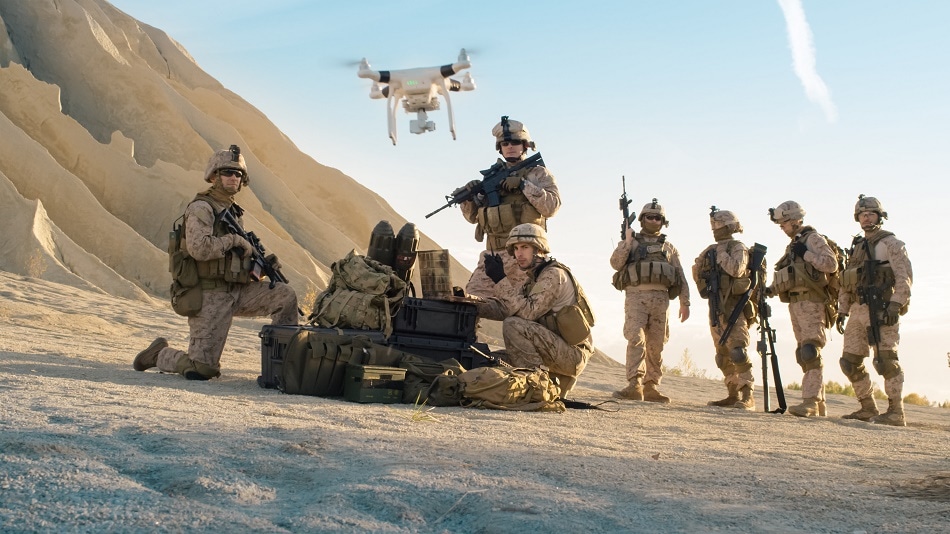 Shutterstock | Gorodenkoff
By miniaturizing drones, researchers have been able to dramatically reduce the costs of these devices while also providing significant socio-economic impacts following their use. Additionally, miniaturized drones are capable of completing missions in confined spaces, particularly those which are close to the ground or lack of position signals in the given area1. As research in this area of small drones continues to progress, researchers are hopeful that an increase in the autonomy of micro- and nano-UAVs will allow previously slow, dangerous and unscalable projects to be completed successfully.
Some of the potential ways in which both micro- and nano-UAVs will improve their industrial applications include:
Allowing farmers to continuously monitor the quality of their crop growth

Allowing construction companies to measure work progress in real time

Providing mining companies with volumetric data on excavations

Allowing energy and infrastructure companies to survey pipelines, roads and cables

Providing immediate reports on aid efforts in refugee camps for humanitarian organizations

Enabling rescue organizations to quickly deliver medical supplies during emergencies

Assessing dangers in a rapid and safe manner to assist fire-fighting and emergency units1
Micro- and Nano-Drones in the Military
The Black Hornet
           One of the most well-known examples of a commercialized nanodrone that has been successfully applied for military purposes since 2013 is the PD-100 Black Hornet. Manufactured by Noreweigan company Prox Dynamics, the Black Hornet allows troops to spy on potential threats to military personnel by offering intelligence, surveillance and reconnaissance support during critical mission operations.
Encased in a rugged, plastic molded shell, the 100 millimeter (mm) Black Hornet weighs approximately 16 grams while maintaining a rotor span of 120 mm2. When equipped with a surveillance camera, the total weight of this system remains below 1 kg and can easily fit in a soldier's pocket. In addition to its ultra-compact dimensions, the Black Hornet generates a negligible amount of noise, thereby allowing this aircraft to readily access congested and threat-prone areas effectively without causing any unwanted attention to enemies in the process.
To perform surveillance and navigation tasks, the Black Hornet is equipped with a steerable electro-optic camera that provides the user with live videos and still images that can be viewed on a connected hand-held device. Through this technology, operators are able to either directly control the drone's operation or pre-program the path through the use of its internal GPS system.
Recent advances in the technology that supports Black Hornets for military applications have led to the development of the Black Hornet 3, which has improved features including a total weight of 32 g, an ability to fly in areas outside of GPS coverage, a thermal microcamera and an overall speed of 21 km/hour3. As militaries are becoming increasingly interested in advancing the modern battle field, the United States Army has entered a $2.6 million USD contract with Flir, a thermal imaging and technology company that will significantly improve the ability to protect soldiers during war.
Snipe Nano UAS
           As one of AeroVironment's newest UAVs, the Snipe Nano weighs 140 grams (4.9 ounces, is equipped with two replaceable batteries that provide a total airtime of over 30 minutes without requiring any assembly by the user. With its operation controlled by an intuitive touch screen tablet, Snipe is equipped with both an electro-optical (EO) and infrared (IR) camera4 that allows for its ability to successfully record real-time videos in during day and night missions. The Snipe can be safely controlled at a distance of 1 km, thereby allowing soldiers to quickly assess potentially hostile situations.
References